Areas of Learning and Development
The early year's foundation stage Themes and Commitments (0-5 Years) are:
Every child is unique and learns new information all the time, to grow into confident, self-assured children. We adhere to the EYFS document 'Development Matters' and as a nursery, we will:
Observe and understand each child's learning and development, and assess and plan for their next steps.
Support each child to develop a positive view of their culture and identity
Identify any areas where there may be need for additional support
Keep children safe
Respect and value children and their families equally
Children learn to be independent through positive relationships with others, so as a nursery, we will:

Encourage a sense of belonging in a warm, caring environment
Be sensitive to a child's needs, feelings and interests, and respond to them
Support each child to be independent
Set and maintain clear boundaries
Provide a stimulating environment
Use a 'key person' system, to form good relationships
Children learn and develop in an environment where their individual needs are met, and staff have a good relationship with parents and carers. As a nursery, we will:
Offer stimulating play, relevant to children's different cultural experiences
Help the children learn through play and playful teaching
Support the children to explore, including taking risks within a safe environment
Children learn and develop in different ways. As a nursery, we will teach children, including those with special educational needs or disabilities by:
Playing and exploring
Active learning
Creating and evaluating thought processes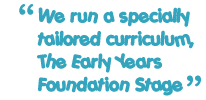 As specified by the EYFS, the areas of Learning and Development are divided into Prime Areas and Specific Areas. The Prime Areas cover personal, social and emotional development (making relationships, self-confidence and self-awareness, managing feelings and behaviour), physical development (moving and handling, health and self care) and communication and language (listening and attention, understanding and speaking). The Specific Areas cover literacy (reading and writing), Mathematics (numbers, shape, space and measuring), understanding the world (the world, technology and people and communities) and expressive art and design (exploring materials and media and being imaginitive).

St Augustine's Nursery make sure all these areas are explored in different and imaginitive ways, and this is set out in each child's Learning Journey, along with photographs of your child enjoying each activity! As another parent comments "When I pick my daughter up, she always has a huge smile on her face!" The focus is on having fun but learning in a happy, safe environment.
Each area of Learning and Development is divided into aspects
Learning and Development Aspects
Personal, Social and Emotional Development
Knowledge and Understanding of the World
Communication, Language and Literacy
Problem solving, Reasoning and Numeracy
We welcome kids into our 2-4's program based on their birth year.