St Augustine's Nursery offers education and care for children from the age of two years. Sessions are held 38 weeks a year, during school terms; morning sessions start at 9.30am and finish at 12.00pm (Monday to Friday) and afternoon sessions start at 12.30pm and finish at 3.00pm (Monday, Tuesday, Thursday and Friday). There is an option for a small fee to start your child's morning session at 9am; this can be on a regular or irregular basis. Please speak to the manager.

A Monday morning session is open to children in their last year of nursery, and consists of a curriculum of activities to prepare them specifically for their new primary schools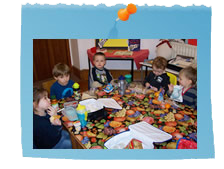 Free Lunches and Fund Raising
In addition to a £10 administration fee for each child, there is also a £5 donation to school fund, this is per family, per term.
The fees are competitive and reviewed every April – please contact us for current prices.
There are various payment options, please speak to the treasurer or chairperson. Fees continue to be payable if a child is absent without notice for a short time. In cases of prolonged absence, parents / carers should consult the committee about fee payment. We are registered for the free Early Education entitlement grants for eligible children. Children may bring a packed lunch and there is a small charge for this to cover staffing costs. Lunch is 12.00pm to 12.30pm throughout the week.
In the nursery we operate a cafe system by which the children may go and help themselves to milk, water and healthy snacks or alternatively a labelled drink from home may be brought in.
The children will always have access to drinking water.
We are classified as a charitable organisation and all income generated from fees and fundraising is for the sole benefit of St Augustine's Nursery. No profit is made and any extra funds are used to buy new equipment or to subsidise outings for the children. There are various activities going on throughout the year and your support is vital to the success of these events.
Required enrollment documents
Pulvinar ultrices porta mattis quis lobortis est facilisis purus nunc, sed semper enim dictum sed donec condimentum sodales sed non vel malesuada morbi arcu justo, pretium sagittis hac nisi amet, fermentum nunc.